Home
»
Spray Foam Insulation
Spray Foam Insulation Contractors Near Middletown, Cornwall, Pine Bush
Energy efficiency experts trust spray foam insulation
Contact Us For
A FREE Spray Foam Insulation*
Dependable: will not shrink or lose shape like other insulation
Efficient: air seals and insulates at the same time
Waterproof: water cannot penetrate!
Spray foam insulation has become a popular alternative to traditional types of building insulation. But before insulation experts figured out that there had to be a better way, installers were using sawdust inside walls to slow heat loss. Today the old-style fiberglass batt insulation, made from spun glass fibers, is still widely used. At Dr. Energy Saver of Hudson Valley we strive to install only the best insulation to save you money and energy and improve the comfort of your home.
The energy efficiency experts at Dr. Energy Saver of Hudson Valley specialize in installing all types of insulation, including spray foam insulation, and more specifically, closed-cell polyurethane spray foam. We use spray foam insulation as just one component of our whole home energy upgrades.
Contact us to learn more about the benefits of spray foam insulation and how it can help increase your comfort and lower your utility bills in Middletown, Cornwall, Pine Bush, Nanuet, New Windsor, Suffren, Warwick, Nyack, and surrounding areas. We are your trusted home energy efficiency and spray foam insulation contractor in New York.
What are the different kinds of spray foam insulation?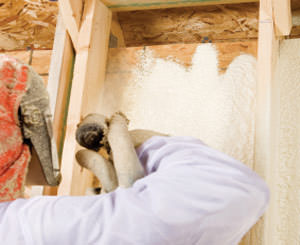 1-part foam: This is a common type of spray foam that comes in pressurized cans and is sold at hardware and home improvement stores. The single-component foam is made out of a sticky material that expands immediately after application. The rate of expansion depends on the type that you buy. This foam is sometimes called an "insulating foam sealant," because it seals gaps as well as insulates.
2-part foam: This two-component mixture is made of a resin and a catalyst that are mixed together in the application nozzle and form an expanding foam that is then sprayed into wall cavities, attic spaces, or other parts of the home that need insulating.
Advantages of installing spray foam in your New York home:
Higher R-value: Spray foam has an R-value (heat resistance) of 6.2 or higher, depending on the formulation - this is a higher R-value per inch than any other common insulation type.
Acts as an air barrier: Nearly 40% of a home's energy loss is due to air infiltration, but spray foam stops air leakages as well as insulates in one step. Because of its ability to expand and fill gaps and voids, spray foam insulation forms a tight seal, making it an ideal product for air sealing. It is also made of an extremely adhesive material, which helps it to stay in place. Although it is typically only used as a spot insulation, when applied liberally, spray foam eliminates the need to use other types of insulation.
Reduces Mold and Moisture: Mold spores continually travel through the air in search of a damp spot, like your basement wall, where they can land and digest in order to survive. Because spray foam acts as an air barrier, this reduces moisture infiltration, and thus helps to stop mold and mildew growth.
Waterproof: Unlike fiberglass and cellulose insulation, polyurethane spray foam stops water in its tracks. The insulation's closed-cell structure prevents water from traveling from one tiny cell or bubble to a neighboring one.
Foolproof: It's not easy to perfectly install fiberglass insulation, which means that voids, or missing insulation, are not uncommon. But even a 5% void within an insulated area can reduce insulation performance by as much as 50%. That's a lot of energy loss and a whole lot of wasted money! Spray foam expands to nearly eliminate all voids and its sticky characteristics mean that once the foam cures, it won't settle or shift like other common insulation types.
Energy Savings: Spray foam insulation can help achieve monthly energy and utility savings of 30% or greater compared to other insulation products. While the cost of spray foam is a bit higher, the money earned through energy savings alone makes the initial investment well worth it.
Be sure to check out our insulation comparison between spray foam and rigid foam insulation. We also provide assistance in choosing the best spray foam insulation.
Spray foam should be installed by a professional insulation contractor
While spray foam insulation has a host of benefits, its varying expansion rates and other qualities make it difficult for someone with little experience to install the product correctly in order to get the most out of the insulation.
Spray foam can also be messy, which could lead to wasted material and more money spent. There's also the potential for the spray foam to cause damage. For example, high-expanding foam could ruin door and window jambs. Temperature also plays a big role in the performance of the spray foam. Cold temperatures can actually affect the chemistry that causes the foaming action.
When you trust your spray foam installation to our professionals, we guarantee that you will get quality results that you can trust - the first time! We are a leading home insulation contractor in Hudson Valley.
Spray foam insulation estimates in Hudson Valley: FREE
Dr. Energy Saver of Hudson Valley wants to bring home energy savings and improved comfort to all local homeowners, and spray foam insulation is an important tool. Contact us today for a free spray foam insulation estimate in New York, including cities and towns like Cornwall, Pine Bush, Middletown, as well as Nanuet, New Windsor, Suffren, Warwick, Nyack, Port Jervis, Walden, Pearl River, Goshen, Stony Point, and throughout the state.